Harry Potter's Childhood Home Available to Book on Airbnb
Attention, all Harry Potter fans! The De Vere House, the UK home that served as Harry's childhood home in Godric's Hollow, is now available to book on Airbnb.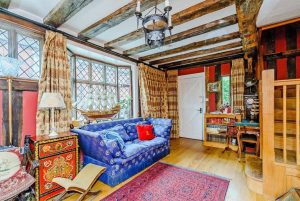 For those less familiar with Harry Potter history, the De Vere House portrayed the house in Godric's Hallow where James and Lily Potter lived with Harry for the first year of his life. It is the house in which the young couple meet their untimely death,  and serves as the location Harry and Hermione revisit when they come to Godric's Hollow in Harry Potter and the Deathly Hallows.
A stay in the De Vere House is relatively affordable for Potterheads. It costs about $154 per night and accommodates two guests. Guests can book rooms for a night or plan a longer stay up to a month. Currently, there are bookings open for next year.
According to the Airbnb listing, the room includes two four-poster bedrooms with en suite bathrooms, a private guest sitting room with a fireplace, and a private guest entrance. Breakfast is included, and WiFi is available.
The De Vere House is centrally located in Lavenham, the village that also appears in the Harry Potter films as Godric's Hollow. Lavenham is reported to be Britain's finest medieval village and the basis for Godric's Hollow in the Harry Potter books.
For fans of Harry Potter looking to retrace the wizarding hero's steps, a stay in the De Vere House allows you to be completely immersed in Godric's Hollow. Be warned, however, that this experience is not suitable for all ages. The listing advises that the property is "not suitable for pets, children, or those with mobility problems… due to the age and layout of the house."
The De Vere House previously operated as a bed and breakfast accommodation. It was a Five Star and Gold Award winning bed and breakfast before closing and re-opening with Airbnb.
Written by Jillian Law
Tags:
Airbnb
blog
Geektainment
Godric's Hallow
Great Britain
Harry Potter
Harry Potter books
Harry Potter movies
James Potter
Jillian Law
Lavenham
Lily Potter
nerd travel
nerds
NRM Streamcast
Potterheads
The De Vere House
travel