'The Craft' Reboot is Heading into Production
Assemble your covens, witches! The long-anticipated reboot of The Craft has begun filming as of October 21st.
The reboot of The Craft, a 1996 cult classic film, is currently in the works with the help of writer and director Zoe Lister-Jones. Jones is best known for her starring role on Life in Pieces and in the 2017 film Band Aid, which she also directed, wrote, and produced. Jason Blum will co-produce the film under his Blumhouse label in partnership with Douglas Wick and Lucy Fisher for Red Wagon Entertainment.
Production Weekly described the plot as "when starting at a new school, Hannah befriends Tabby, Lourdes, and Frankie & quickly becomes the fourth member of their clique. Hannah soon learns that she somehow brings a great power to the quartet."
Cailee Spaeny, known for her role in Bad Times at the El Royale, has been cast as Hannah. The rest of the coven has also been cast. Gideon Adlon (Blockers) has been cast as Frankie, Zoey Luna (Pose) as Lourdes, and Lovie Simone (Greenleaf) as Tabby.
X-Files star David Duchovny and True Detective actress Michelle Monaghan will also join the cast in currently unspecified roles.
Without any more details, it's hard to determine what The Craft reboot will be like. However, it is a film prime for a modern reimagining.
Witches have gained more popularity in our cultural consciousness in the last few years. Popular shows like Netflix's Chilling Adventures of Sabrina and the CW's Charmed reboot portray modern, strong women in control of their witchy powers.
In the political sphere, anti-Trump activists carry signs that say, "We are the granddaughters of the witches you weren't able to burn" or "Hex the Patriarchy." In 2019, witchcraft has become increasingly attractive to young women who are seeking new ways to express their autonomy and power.
The reboot of The Craft has huge potential with this demographic. After all, the original is a cult classic with young women, often seen playing at Friday night sleepovers.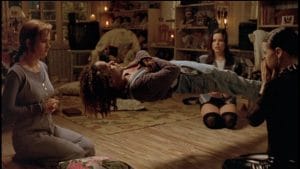 What scene is more iconic than Sarah, Nancy, and Bonnie lifting Rochelle off the ground during Light as a Feather, Stiff as a Board? What is more satisfying than seeing this coven of witches practicing their magic and getting a little petty revenge against those who have wronged them?
In fact, The Craft reboot may be able to push the feminist angle of the original even further. The first hour or so of the 1996 film features the four witches working together, performing spells, and generally bonding as friends. This is the most satisfying segment of the film, but it all takes a turn when Nancy invokes Manon and becomes consumed with power.
After Nancy goes mad with power, Sarah tries to stop her. Of course, power-hungry Nancy cannot be stopped, and so the two girls eventually face off against each other with Bonnie and Rochelle aiding Nancy and turning against Sarah for seemingly no good reason.
Having The Craft, a film that centers around this dynamic group of girls, end with the coven broken and Nancy locked away in a mental institution always felt wrong. Why does such a powerful coven end in the girls turning against each other? Why couldn't they fight a outside force of evil instead?
Perhaps the reboot could take a different approach to the conflict in the story. Instead of the girls turning on each other, they could battle an unexpected evil that threatens their coven. Maybe another coven? Maybe an evil warlock of some kind? Having an evil man enter into the story may seem cliché, but it would also be infinitely satisfying.
Either way, The Craft reboot has endless witchy potential in our current cultural climate. And with a female writer and director and a well-known horror studio behind it, it feels like it would be hard for the new version to disappoint fans of the original.
What do you think of the upcoming The Craft reboot? What direction do you think it should take? Let us know below in the comments!
Written by Jillian Law
Tags:
blog
Blumhouse
Cailee Spaeny
cult classic
David Duchovny
entertainment news
Geektainment
Gideon Adlon
girl power
in the works
Jason Blum
Jillian Law
Lovie Simone
Michelle Monoghan
new movies
news
NRM Streamcast
politics
Reboot
television
the Craft
The Craft Reboot
witchcraft
witches
Zoe Lister-Jones
Zoey Luna