Tom Holland's Spider-Man is Back in Business
Spider-Man fans, rejoice! Disney and Sony have put aside their differences and inked a deal that will see Tom Holland's Peter Parker back at Marvel for Spider-Man 3.
The currently untitled Spider-Man 3 is set to release on July 16, 2021. Jon Watts will return to direct with president of Marvel Studios Kevin Feige in charge of creative direction and producing with Sony's Amy Pascal. Both Feige and Pascal also produced the first two MCU Spider-Man movies.
Last month, such a deal seemed impossible to Spider-Man fans. According to Deadline, negotiations between Sony Pictures and Disney broke down after Disney suggested splitting the costs and profits of Spider-Man films 50/50.
The previous deal saw Spider-Man films 100% financed and distributed by Sony with Marvel producing and taking creative control. This deal allowed Marvel to include the Sony-owned Spider-Man in the MCU. Marvel also received 5% of the first dollar box office gross of Spider-Man films and all revenue from merchandising.
Sony wanted to maintain this deal and walked away from negotiations. It was then announced that Spider-Man would be leaving with the MCU.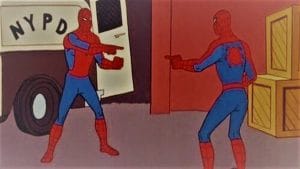 However, thanks to the outrage of fans and possibly the help of Tom Holland, a new deal has been reached. In the new deal, Disney will co-finance 25% of Spider-Man 3 for a 25% equity stake. Disney also retains the merchandising rights.
More importantly to fans, the new deal means that Tom Holland will appear in one more Marvel movie in addition to Spider-Man 3. Disney may also be pursing a Spider-Man animated series for Disney Plus with Holland as well.
Sony and Disney's continued partnership means Spider-Man fans can look forward to seeing their favorite superhero partner up with different beloved Marvel characters across franchises. Peter Parker saving the universe with Captain Marvel in her sequel film? Yes. Peter Parker dealing with Eddie Brock's nonsense in Venom 2? Sign us up!
Which Marvel characters do you want to see Spider-Man paired up with? Are you excited about the new Sony/Disney deal? Let us know below in the comments.
Written by Jillian Law
Tags:
Amy Pascal
Captain Marvel
Disney +
Eddie Brock
Jillian Law
Jon Watts
Kevin Feige
Marvel
Marvel news
MCU
movie news
NRM Streamcast
Peter Parker
Sony
Spider-Man 3
Tom Holland
Venom